Written by Simon Phelps,
I came up with the idea of Floodstop whilst an undergraduate at Bournemouth University studying Computer Aided Product  Design.  As part of my degree we were tasked with developing a new product for our final year (2004/5).  But what? I was stumped, that was until one morning whilst I was eating my cornflakes watching the national news.  Back then my diet mainly consisted of cornflakes in the morning and pot noodle variations for lunch and dinner – the delight of being a student.
Anyway back to the story…  There was a news piece detailing a devastating flood event and the fact sand bags proved completely ineffective.  The news report went on to say sandbags didn't stop any houses from being flooded.  That was it, my interest was spiked.  Using an early version of Google I did some research into the use of sandbags as flood prevention and other possible flood defence methods.
This is what I found:
Sandbags just dont work! – I was genuinely surprised by this at the time – they are a faff to assemble and deploy into a barrier and then you have to dispose off  the bags once they start to rot.
Other flood defence measures are available but they are very expensive, and on the whole require bolting to the ground if deployed.
This was the catalyst for my final year project.  To develop a no-nonsense flood barrier that was comparable with sandbags cost wise, required no bolting and is effective at holding back flood waters.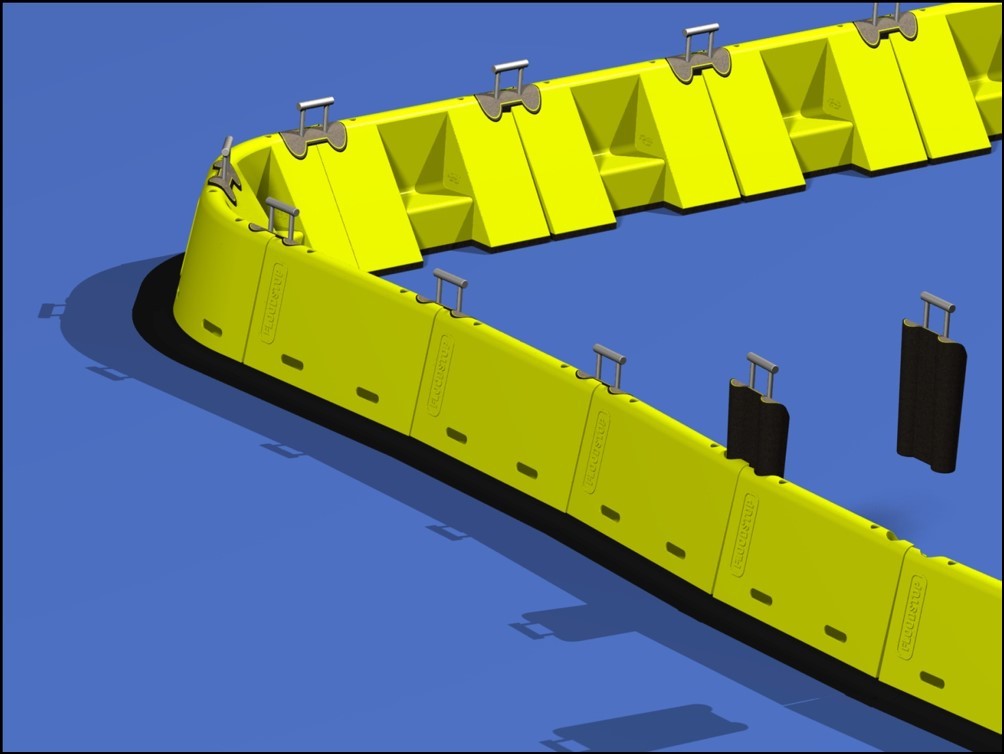 [ABOVE IMAGE: 2004 Concept image of Floodstop]
The Eureka moment came whilst I was off to my local supermarket (probably to buy some more pot noodles) and I walked passed some generic road traffic barriers.  They were plastic ones you see around construction sites.  I wondered 'What if they had some holes on their front face and they then automatically filled with the rising flood waters?  Would they then become heavy enough to hold back flood waters?'
The simple answer is yes, but only if further design steps were made.  The units would require some ballast to be applied – this was done in the form of the Floodstop connection keys and a small quantity of pre-filled units.  The connection keys apply significant ballast to an assembled flood barrier at every connection joint.  The other thing worked out was the placement of gasketing so that a seal could be formed with the undulating ground terrain.
And, that as they say was history..  On graduation, I was lucky enough to be approached by the then innovation department of Bournemouth University.  With their help and guidance we formed Fluvial Innovations in 2006 and carried out 2-years of research and development into the Floodstop flood barrier concept (along with placing international patents on the innovation).  In 2008 we launched the product into the market place.
As I write this in April 2017 – I have gone slightly grey and am no longer eating pot noodles  – but we have supplied well over 12 miles of Floodstop to many hundreds of customers in the UK alone.  With many more miles sold around the world.  The product is manufactured in both the UK and USA and we have supplied to customers from Thailand to the Caribbean and most places in-between.  All of whom now have a no-nonsense, effective proven flood barrier that can protect their assets from the devastation of flooding.
None of this would have been possible without the great team and stakeholders involved in the development and supply of Floodstop.
Simon Phelps, Managing Director.