Our Effective Flood Barriers Include: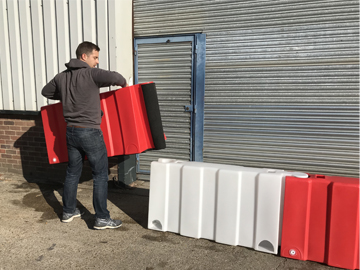 0.65m High Floodstop Barrier
The 0.65m high Floodstop is our newest flood barrier in the popular Floodstop range. Very simple and easy to deploy. Each modular unit is slightly longer at 1.2-metres in length and uniquely, the connection key is moulded into the unit. Meaning one less step for deployment.
Quick to deploy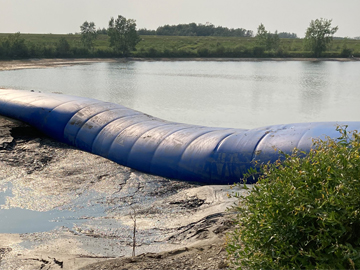 Water Filled Flood Barrier
Our water filled inflatable barriers are quickly deployed and filled with any source of water. These 'sausage type' flood barriers are ideal for use as a temporary cofferdam during construction works. Features an internal stabilising panel to provide stability and safety.
Portable Cofferdam
What are you looking to flood protect?
Why Choose Us
Here are just some of the benefits of our products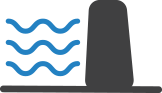 Highly Effective
Used around the world to protect homes and businesses from floods

Quick To Deploy
All of our products are designed to be quick to deploy for just one or two people

Easy To Store
All of our products are very robust and stackable, making them easy to store
We are the sole provider of the innovative
flood defence barrier – Floodstop, FloodFence™ & FloodBlock™.
Fluvial Innovations is a business dedicated to protecting properties against the cost and misery which arises as a result of flooding. We have been protecting properties and assets from flooding since 2007 and have supplied well over 10 miles of flood barrier to many hundreds of customers in the United Kingdom. We manufacture in both Europe and the United States.
In 2018 Her Majesty The Queen selected Fluvial Innovations Ltd as winner of the Queen's Award for Enterprise for Innovation. Although specifically a British recognition, the Queen's Award for Enterprise is known globally as a mark of excellence. It is the highest official UK award for British companies.
We provide a robust and elegant solution to the devastation of flooding for households, businesses and local authorities. At Fluvial Innovations we are passionate about making a real difference to individuals who suffer from the heartache of flood damage. FloodStop - is a rapidly deployable barrier that is used throughout the UK to protect utilities, businesses and households at risk from flooding. The Environment Agency has successfully used this technology on several occasions. Our principal technology is the award-winning Floodstop & FloodBlock™ modular flood barriers. These patented flood defence systems actually fill with the rising flood waters to create effective flood protection. Our flood barriers can be easily deployed to prevent flood waters from entering a small opening (such as a driveway) to much larger areas (such as a tidal promenades or river banks).
According to The Environment Agency, 1 in 6 UK homes are at risk of flooding. Our flood barrier systems provide vital protection against rising water and could save you thousands of pounds.
Floodstop & FloodBlock™ modular flood barriers are more cost effective reliable than ineffective sandbags. Sandbags leak excessively - we do not recommend their use for flood protection. If you are a private householder or business, visit our Private Household and Business page to see how we can help you with flood prevention. If you represent a local authority, click our Local Authorities page to see the options available for flood defences. To find out more about how Fluvial Innovations can protect you from flooding, please contact us on 01202 678580 or email info@fluvial-innovations.co.uk for a free flood assessment.
In recent years, FloodStop has won the Emergency Planning Society's Most Innovative Product of the Year Award. Click here to watch a demonstration of the flood defence barrier, FloodStop. We now have stocks of the Floodstop - flood defence barrier available for immediate hire at depot locations across the UK.
For details contact us now on 01202 031657.
16,000+
Metres supplied in the UK
Award Winning
Queen's Award for Innovation, Emergency Planning Society and Climate Week
500+
Properties, Businesses & Communities Protected
We are the sole provider of the innovative
flood defence barrier – FLOODSTOP.